Heated Vest
Designed in Calgary, Canada, the MOTION Heat Rechargeable Heated Vest is a thin lightweight mid-layer that can be worn over top of a sweater or under a winter jacket. This unisex "one size fits most" vest has been designed with an adjustable strapping system which allows it to adapt to almost any body shape and size. Featuring three distinct heat zones, the ability to plug in heated gloves and/or insoles, and hold up to eight batteries at once, this vest will surely keep you powered and warm!
Heated Gloves
MOTION Heat Rechargeable Heated Glove Liners were designed in Calgary, Canada. They were originally designed for cyclists to extend their riding season into the coldest months. Canadian winters are no joke, and cycling in winter is typically only for the bold. But over the last several years, the reach of MOTION Heat has spread far beyond our expectations. They have been widely adopted by outdoor workers ranging from police officers to construction workers to those who work in the tough oil fields. These heated gloves have also found its way into the medical sector providing comfort and relief to those suffering from pain in the hands caused by diseases like Raynaud's and Arthritis. 
Heated Insoles
MOTION Heat Rechargeable Heated Insoles are available in sizes from 7-12 with the heating element at the front of the insole to ensure your toes stay warm. By selling individual sizes, we can ensure the element reaches the front of the toes.
DIY Insoles
MOTION Heat Rechargeable Heated Insole Do It Yourself Kit
Accessories
MOTION Heat Rechargeable Heated Accessories and Parts On The Market.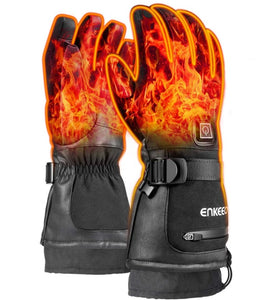 Thin, Form Fitting Liner
The tighter, form fit provides better conductivity to transfer heat to your hands quickly. Designed with a thin material it allows it to be used on its own indoors , or outdoors with an external shell like ski gloves, mitts, leather gloves, work gloves etc.
12 & 16 Volt Power Source
Our gloves are the hottest gloves on the market for the extremes of winter time! Our glove plugs into various 12 V systems with the appropriate adapter. Most heated gloves on the market run on a 7.4v, 3.7v, standard AAA or D-cell batteries. These typically have a very short run time and can tend to be heavy in weight. 
We have just launched our NEW 16 VOLT BATTERY along with our new HEATED VESTS . The 16 Volt batteries used in the vest will power both the gloves and vest at up to 24 hours depending on the number of batteries you use.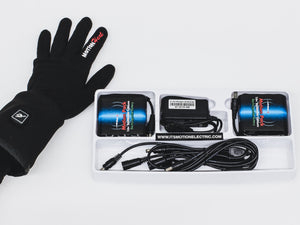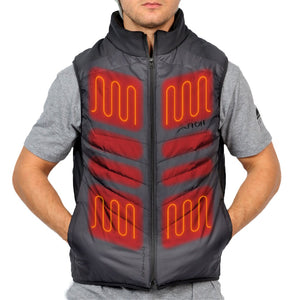 Temperature Control
There are 3 levels of power settings built into the system.The HIGH setting will get things warming up within seconds. If you don't need that quick blast of heat drop it down to the MEDIUM setting. Once the gloves are nice and warm, reduce it down to the LOWsetting to maintain the temperature and save battery life. 
The MOTIONHeat was designed with various purposes and user arrangements in mind.For outdoor workers who stay out all day and need less weight on their hands  can use the included StickMan extension wire to run the batteries from a remote location like in the jacket pocket.
Scale up the battery even more to increase the run-time with additional batteries.
PLEASE NOTE IF UP GRADING TO 16 VOLT BATTERIES THEY WILL NOT FIT IN THE GLOVE POCKET YOU MUST USE THE STICKMAN WIRE.
GLOVE SIZING CHART
Hand measurement sizes (circumference):
Size Centimeters Inches
X-SMALL 16 – 18cm 6″ – 7″
SMALL 18 – 21cm 7″ – 8″
MEDIUM 21 – 23cm 8″ – 9″
LARGE 23 – 25cm 9″ – 10″
X-LARGE 25 – 28cm 10″ – 11″
Finger measurement sizes:
X-SMALL: Up to 2.5 inches
SMALL: 2.5 - 3 inches
MEDIUM 3 - 3.5 inches
LARGE 3.5 - 4 inches
X-LARGE 4 inches and up

If your size measurements fall between two size categories we recommend going a size down for optimal fitting.
For example, if your hand circumferences measures 23cm then a Medium would fit better than a Large size.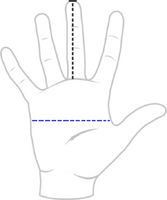 Our store
1121 Dundas St. E. Unit B-1
Whitby, ON L1N-2K4
Call us at: 905-492-8886
email: sales@itsmotionelectric.com
We ship Canada and US
Testimonials
Our janitor spends 4-6 hours at a time outside in the winter wearing these gloves. They are well designed with long lasting comfort and warmth! Thank you MOTION Heat!

Jean, Quebec
If you're like me and want to be outside as much as possible but get cold pretty fast, these gloves are for you! These gloves were a darn good investement! 

Ian, Nova Scotia
Well made product. Very helpful staff. They called me when I placed my order to verify my hand size and I was wrong. They changed the size  before shipping it  to me and they fit perfectly. Worked right out of the box.The high setting is perfect.

Customer, Amazon
GLOVES ONLY (NO BATTERY)
$114.95 CAD / 99.95 USD
You can purchase gloves on their own as an additional or replacement pair. Or, if you are a motorcycle, electric bike , all terrain , snowmobile user, and you already have 12V power source, then you can use the gloves without our battery packs by plugging in directly to the bike with one of our power accessories .
There are two battery option selections:
MOTION Heat Complete Set 12 Volt
(TWO BATTERY SYSTEM)
$235.95 CAD / $219.95 USD
MOTION Heat Complete Set 16 Volt
( TWO BATTERY SYSTEM )
$289.95 CAD / $259.95 USD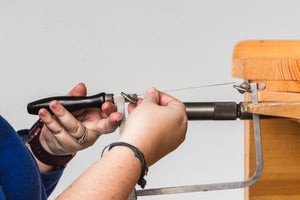 Warranty
All Motion Heat products, including glove liners, batteries, chargers, wire sets, and other accessories, comes with a ONE-YEAR warranty from the date of purchase.
The warranty applies to manufacturer's defects, negligence of shipping services and free repairing if repairable. 
Conditions that are NOT covered under the warranty include:  
- Physical damage of the gloves or accessories caused by customer
- Submerging the gloves in any liquid
- Glove and its component has been altered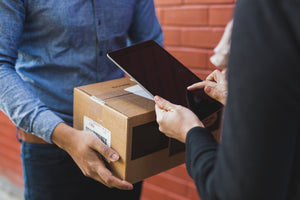 Return
Motion Heat glove may be exchanged for different size in the first 15 days of purchase
PACKAGE TAG must be kept with gloves. Customer's exchange gloves can't have any damage or altered look to gloves and its components. No exchanges will be accepted for gloves if the conditions are not met.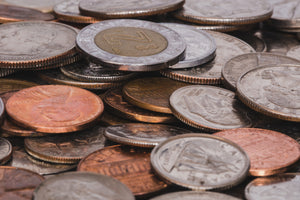 Refund
Glove can be returned and refunded (must be within 15 days) when the following conditions are met: 
- Gloves were never worn outdoors, used gloves CANNOT be return
- The PACKAGE TAG must be kept with the gloves
- Refund will include complete set of gloves.
- RETURN SHIPPING WILL BE PAID BY CUSTOMER .
- Gloves have to be returned in resalable condition and when Its Motion Electric staff confirm glove have  been received and are in good condition a refund will be made.