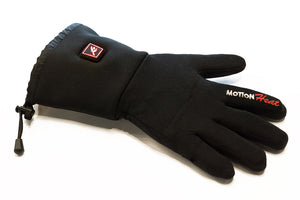 Heated Gloves Liners
Regular price $139.95 Sale
EATED GLOVE LINERS
MOTIONHeat Rechargeable Heated Glove Liners were designed in Calgary, Canada. They were originally designed for cyclists to extend their riding season into the coldest months. Canadian winters are no joke, and cycling in winter is typically only for the bold. But over the last several years, the reach of MOTIONHeat has spread far beyond our expectations. They have been widely adopted by outdoor workers ranging from police officers to construction workers to those who work in the tough oil fields. These heated gloves have also found their way into the medical sector providing comfort and relief to those suffering from pain in the hands caused by diseases like Raynaud's and Arthritis. 
Our heated glove liners have proven useful in battling the cold of the Canadian winters throughout various environments, and also provide soft comforting warmth to those with poor circulation in their hands. If you are looking for a source of heat to keep your fingers flexible and warm MOTIONHeat has proven quality and performance for any situation. And with a one-year warranty, they are simply the best-heated gloves available. 
"Our newest addition to this season's lineup is the most powerful heated glove ever invented, we dare you to compare to any other glove liner on the market" - John V (Its Motion CEO)   
MOTIONHEAT GLOVES ARE PERFECT FOR... 
RECREATION
Fall or winter cycling
Skiing and snowboarding
Snowshoeing, Hunting, and Ice fishing
Hockey and curling
Motorcycle and ATV 
WORKPLACE
Roofing contractors
Electricians, mechanics, and plumbers
Police and military
Postal and delivery services
Oil field workers 
THERAPEUTIC / HEALTHCARE
Arthritis
Raynauds patients
Multiple sclerosis
Injury recovery 
Heated Glove Liners (Gloves Only)
PRODUCT SPECS: 
*Note: Compatible with touchscreens for all Smartphones and Tablets.  
PACKAGED CONTENTS
Pair of MotionHeat heated glove liners
_______________________________________________________________________________
 Heated Glove Manual: - ENGLISH 
Size Chart: Measurement of hand circumference. If your size measurements fall between two size categories, we recommend going a size down for optimal fitting. For example, if your hand circumferences measure 23cm then a medium would fit better than a large size. 
Hand Measurement Size:
Size
Centimeters
Inches
X-SMALL
16 - 18cm
6" - 7"
SMALL
18 - 21cm
7" - 8"
MEDIUM
21 - 23cm
8" - 9"
LARGE
23 - 25cm
9" - 10"
X-LARGE
25 - 28cm
10" - 11"
Finger Measurement Size:
Size
Inches
X-SMALL:
Up to 2.5"
SMALL:
2.5" - 3"
MEDIUM
3" - 3.5"
LARGE
3.5" - 4"
X-LARGE
4" and Up